MyTime
Appointment scheduling, POS & customer engagement platform
Sobre o MyTime
MyTime is a fully integrated appointment scheduling, point-of-sale and customer engagement platform for multi-location chains and franchises, designed to help businesses grow, schedule, and retain clients.
MyTime has all the tools businesses need under one roof: a comprehensive appointment scheduler, client relationship manager (CRM), email marketing, online advertising and presence management, point-of-sale, and more. MyTime is designed to fit any size of business, from sole-proprietors to national franchises. Users can access MyTime on the web or on the go with iPhone and Android apps.
MyTime's scheduling and business platform also integrates with the popular Marketplace, where millions of customers search for local businesses, see reviews, descriptions, and pricing, and book in real-time. MyTime is also partnered with Google, Facebook, YP.com, Local.com, and others, helping business become more visible and easier to find for new customers.
Preços a partir de:
US$ 74,00/mês
Principais benefícios do MyTime
Find new clients and increase revenue and client loyalty with MyTime's online marketing tools.
Save time with MyTime's scheduling, client management, and POS (Point of Sale) software.
Improve web presence and SEO. MyTime's partner network puts users on Google, Facebook, Uber, YP.com, Superpages, CitySearch, Local.com, and up to 150 others.
Put all client communications such as SMS, emails, and more, in one place with MyTime Communicator, a built-in instant messenger.
Keep all the software needed to run the business in one place, from marketing to scheduling to POS, so they all work seamlessly together.
Generate clear, easy-to-understand reports, with real-time aggregation of data across all locations.
Preços a partir de:
US$ 74,00/mês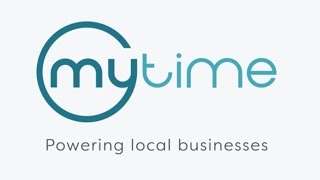 Total de recursos do MyTime: 107
API
Acesso para Celular
Agendamento automatizado
Agendamento de aulas
Agendamento de compromissos
Agendamento de eventos
Agendamento de grupo
Agendamento de recursos
Agendamento em tempo real
Alertas/notificações
Alertas/transferência
Análise de dados visual
Aplicativo móvel para clientes
Assinatura eletrônica
Automação de pedidos
Banco de dados de clientes
Banco de dados de funcionários
Banco de dados do cliente
Banho e tosa a domicílio
Bate-papo ao vivo
Bate-papo/Mensagens instantâneas
Campos personalizáveis
Catálogo de serviço
Classificações/avaliações
Cobrança e faturamento
Compromissos recorrentes
Confirmação/lembretes
Contas de clientes
Controle de comparecimento
Controles/permissões de acesso
Convites e lembretes por e-mail
Cronograma de instalações
Cálculo de comissões
Cálculo de horas extras
Dados em tempo real
Editor de WYSIWYG
Folha de pagamento e comissões
Formulários personalizáveis
Gerenciamento de SEO
Gerenciamento de registros
Gerenciamento de usuários
Gestão da folha de pagamento
Gestão de aluguel de cabines
Gestão de calendários
Gestão de clientes
Gestão de comissões
Gestão de compromissos
Gestão de comércio eletrônico
Gestão de descontos
Gestão de devoluções
Gestão de estoques
Gestão de funcionários
Gestão de impostos de vendas
Gestão de instrutores
Gestão de lista de espera
Gestão de modelos
Gestão de preços
Gestão de promoções
Gestão de recibos
Gestão de recursos
Gestão de reservas
Gestão de vales-presente
Gestão de varejo
Gestão do pessoal
Imagem de marca personalizável
Importação/exportação de dados
Integração da contabilidade
Integração de redes sociais
Leitura de código de barras/tíquetes
Lembretes
Logon único
Marcação
Marketing por e-mail
Mensagens de SMS
Modelos de e-mails
Modelos personalizáveis
Monitoramento
PDV para varejo
Pagamentos eletrônicos
Pagamentos online
Painel de atividades
Para spas e salões de beleza
Perfis de clientes
Permissões por função
Pesquisa e filtro
Pesquisas do cliente
Planejamento de pessoal
Ponto de vendas (PDV)
Processamento de pagamentos
Processamento de pagamentos ACH
Programa de fidelidade
Rastreamento de devoluções
Rastreamento de estoque
Rastreamento de vagas e licenças
Registro de auditoria
Relatórios de vendas
Relatórios e análise de dados
Relatórios e estatística
Relatórios em tempo real
Relatórios personalizáveis
Renovação automática de pedidos
Reservas de quartos
Reservas online
Sincronização de calendários
Sincronização de dados
Tela de toque
Várias localizações
Vagaro
#1 alternativa ao MyTime
O Vagaro é uma solução baseada na Internet para os proprietários de salões e academias de ginástica promoverem seus...
WellnessLiving
#2 alternativa ao MyTime
WellnessLiving is an all-in-one online booking, resource scheduling, lead generation, and reporting solution for health...
Marketing 360
#3 alternativa ao MyTime
Marketing 360 is trusted by over 20,000 small businesses. Business owners use our business growth platform because the...
Odoo
#4 alternativa ao MyTime
O Odoo é um pacote de aplicativos de negócios de código aberto personalizáveis e integrados. A maioria das necessidades...
Classificação geral
(109)
---
Já tem o MyTime?
Ajude os compradores de software! As avaliações de programas ajudam outras pessoas a tomarem melhores decisões.
Escreva uma avaliação!
Exibindo 5 avaliações de 109
Setor: Contabilidade
Fonte da avaliação
Classificação geral
Relação qualidade/preço

Praticidade

Suporte ao cliente
Love this company!
Avaliado em 20/11/2015
I've been with MyTime for about a month now and have been thoroughly impressed with this company. ...
I've been with MyTime for about a month now and have been thoroughly impressed with this company. Their customer service is phenomenal! They have a quick link to send feedback on the app/software that makes it easy to either report an issue or suggest a feature. I've submitted several ideas and had a couple of glitches and have been pleasantly surprised to either receive a response by email or even a telephone call! MyTime has literally called me four or five times to discuss either my ideas or understand a small issue I'm experiencing. Who does that anymore?! I love it! I have direct phone numbers and email address to real people who answer the phone. Awesome.
I could go on forever about the customer service but I actually love the software and app as well!
App: We have tried several different scheduling software options only to find that none of them could form to what we need for our home based business or they didn't have a mobile app to use on the go. We own an on the go business with no store front so 100% of our customer interaction is in their homes or through technology. With the app we can schedule appointments and input client information, call and message clients and check out analytic info.
The software adds that much more to the software possibility. You can customize automatic, and professional looking emails/text messages to be sent as reminders or thank yous. You can ask for reviews automatically. You can check on the customers profile to see what type of communication they've received through the app. You can also schedule employees and easily manage their time.
I don't know a lot about how this works, but each time you schedule on MyTime it helps with SEO. They do stuff to help you show up better in the search engine...I don't know all the details but it sounded really good for small business trying to get their names out there :)
There's plenty more that can be said, but just experience it for yourself. You wont be disappointed!
Vantagens
User friendly. App runs pretty quickly for scheduling. Reschedule button, quick call and mapping at the touch of a button. Message customers from app. Exceptional customer service.
Desvantagens
I would love a widget to see my calendar at a glance (they said they are in the process of creating this) and It would be awesome to color coordinate appointments by type and color coordinate blocked out time.
Setor: Educação superior
Porte da empresa: 501-1.000 funcionários
Usado

Diariamente

durante

Mais de dois anos

Fonte da avaliação
Classificação geral
Relação qualidade/preço

Praticidade

Probabilidade de recomendação

8.0

/10
One of the best time management applications out there
Avaliado em 30/11/2018
Vantagens
I've been using My Time for as long as I can remember to manage everything from work to personal life.
Its very easy to use, both as a newbie and an experienced user.
Brilliant price point, compared to other applications that offer similar features this is a steal!
My Time also integrates very well with other applications, such as Google and Facebook, allowing me to sync contacts across services.
Both the desktop and mobile applications work very well, offering basically the same user-experience across various devices.
Desvantagens
Over time some of the free features of My Time have been moved to only be available to premium users.
The frequency in which they release bug fixes is pretty terrible, there are some bugs that were reported some time ago that still haven't been fixed!
Setor: Saúde, bem-estar e condicionamento físico
Porte da empresa: 11-50 funcionários
Usado

Diariamente

durante

1 a 5 meses

Fonte da avaliação
Classificação geral
Praticidade

Suporte ao cliente

Probabilidade de recomendação

1.0

/10
Shady business practices, unknowledgeable staff, glitchy system
Avaliado em 11/12/2018
The sales rep was extremely pushy when convincing me to subscribe to MyTime and was so confident...
The sales rep was extremely pushy when convincing me to subscribe to MyTime and was so confident that it would suit my needs after describing in precise detail what I needed. They should have never taken me as a client because it doesn't function well at all for what we need. I would be fine with the workarounds that were suggested to me if they worked, but they don't. Services that should be available becasue I have it set up perfectly will just randomly disappear. My clients see our marketing dollars at work and call wanting to sign up, but say that it looks like the appointments are booked up. The sales rep convinced me to sign up during my high season, promising that I wouldn't get charged until I actually started using the system. And promised that if I decided it wasn't a good solution for me, he'd have "no problem" getting me out of the contract. I started getting charged for MyTime LONG before I was ready to even begin setting it up. And I reached out to that sales rep for help, and he was no longer with the company. Not only did the MyTime staff not hold up the promises of their sales rep they employed, but they also agreed that I made a terrible mistake by believing him. The customer service is terrible and the system is glitchy. They don't care that they've cost my business thousands of dollars..... just awful.
Vantagens
I like the look and user friendliness of the widget on our website.
Desvantagens
The system is glitchy. Doesn't have the functionality promised by sales rep. It's complicated.
Resposta do MyTime
We apologize for the experiences that you've had with our software. We take customer feedback seriously and are always striving to improve.
We hope that providing 17 locations to you for the price of one and crediting 2 months of your subscription to help you through your slow season is a show of goodwill.
We have thousands of locations successfully using MyTime and will offer you continued support to hope to count you in that group.
Usado

Diariamente

durante

Mais de dois anos

Fonte da avaliação
Classificação geral
Relação qualidade/preço

Praticidade

Suporte ao cliente

Probabilidade de recomendação

10.0

/10
I can't say enough good things about my time. They are so present in ready to offer Solutions&...
Avaliado em 02/04/2018
I truly believe that my time is on my side they want to see me when and want my business to thrive....
I truly believe that my time is on my side they want to see me when and want my business to thrive. I love how the CEO will chime in to get clarity from me firsthand. #priceless
Vantagens
Everything that I could think of to be helpful for me and my business, my time is already thought of. And if they have not and I made the suggestion nine times out of 10 is implemented within that week.
Desvantagens
As their business evolves some things that were free in the beginning now cost money. For example it used to be free to call in for support but because I don't have the package that includes phone support I have to email / chat for support. Which is not a major issue but I did like in the past that I could just call
Usado

Diariamente

durante

6 a 12 meses

Fonte da avaliação
Classificação geral
Relação qualidade/preço

Praticidade

Suporte ao cliente

Probabilidade de recomendação

10.0

/10
Happy to have made the switch
Avaliado em 05/04/2018
Vantagens
First learned about MyTime in 2013 when I was first starting my business in LA and so were they. They helped us in promoting our off-peak times which kept us pretty booked during those slow hours. We parted for a while as our booking software then was not compatible with them and we were getting double booked which was a great problem until clients start complaining about it :P
Once they had scheduler in place, we went back and was very happy that most of our data was properly ported. MyTime overall is very user-friendly and you could actually figure out most functions on your own. I love the communicator feature and the automated reminders. the rest of the team are very helpful and that makes the whole experience 100x better.
Desvantagens
Notes do not save separately so when you have several notes about a client, you would end up with one long note. Not a biggie - but would be nice to see this improved.
Perguntas frequentes sobre o MyTime
Abaixo estão algumas perguntas frequentes sobre o MyTime.
P: Que tipo de planos o MyTime oferece?
O MyTime oferece os seguintes planos de pagamento:
A partir de: US$ 74,00/mês
Modelo de preços: Assinatura
Teste Grátis: Disponível
Scheduling: $74/month (billed annually) or $134/month (billed monthly). Growth: $114/month (billed annually) or $199/month (billed monthly). Premium: $149/month (billed annually) or $249/month (billed monthly). All pricing is per-location.
P: Quais são os principais recursos do MyTime?
Não temos informações sobre os recursos do MyTime.
P: Quem costuma usar o MyTime?
Os clientes habituais do MyTime são:
2-10, 11-50, 51-200, 201-500, 501-1.000, 1.001+
P: Em que idioma o MyTime está?
O MyTime está nos seguintes idiomas:
inglês
P: O MyTime é compatível com disponíveis móveis?
O MyTime é compatível com os seguintes dispositivos:
Android (celular), iPhone (celular), iPad (tablet)
P: O MyTime se integra com quais outros aplicativos?
O MyTime se integra com os seguintes aplicativos:
Facebook, Google Calendar, Google Maps, Instagram, Microsoft Outlook, Quickbooks Online
P: Que nível de suporte o MyTime oferece?
O MyTime oferece as seguintes opções de suporte:
Email/Help Desk, FAQs/Fórum, Base de conhecimento, Suporte por telefone, 24 horas por dia (representante ao vivo), Bate-papo
Categorias relacionadas
Veja todas as categorias de software encontradas para MyTime.