Resumo do xMatters
O que é o xMatters?
O xMatters é uma plataforma útil de alerta de TI, que retransmite dados entre sistemas enquanto envolve as pessoas certas para resolver os incidentes mais rapidamente. O xMatters automatiza e dá estrutura à comunicação para que se possa proativamente impedir interrupções, resolver incidentes e manter as pessoas certas informadas. O xMatters reúne um conjunto de ferramentas para capacitar os departamentos de TI e desenvolvimento, permitindo a conectividade entre as soluções, bem como as transferências no processo.
Com a plataforma inteligente de comunicações baseada na nuvem do xMatters, os usuários podem executar tarefas ou resolver incidentes com eficiência conectando e notificando automaticamente as pessoas mais relevantes em uma empresa. As equipes e indivíduos de resolução são direcionados usando informações baseadas em agendas de plantão, conjuntos de habilidades e encaminhamentos. As informações de programação de plantão registram substituições e feriados, garantindo que apenas os funcionários presentes e relevantes sejam acionados. Os usuários podem criar e automatizar processos de incidentes críticos, enviar e automatizar escalas e configurar notificações automáticas usando os sistemas de supervisão e gerenciamento de serviços da empresa do usuário.
A tecnologia e os recursos incorporados no xMatters oferecem aos usuários uma solução de comunicação de TI automatizada e flexível. Como o xMatters é totalmente funcional em dispositivos móveis, tablets e computadores, os usuários podem receber atualizações e notificações em qualquer lugar. Ao direcionar equipes de pessoas relevantes, o xMatters visa resolver incidentes mais rapidamente. Para melhorar a eficiência geral dos processos de negócios e da resolução de incidentes, as partes interessadas e as equipes de TI são automaticamente informadas e atualizadas sobre quaisquer incidentes. O xMatters foi projetado para empresas gerenciarem processos e problemas essenciais de negócios de maneira rápida e eficiente, usando comunicação direcionada e automática. Embora usado por muitas grandes empresas, o xMatters é adequado e dimensionável para uso por equipes de TI de qualquer tamanho.
Resumo do xMatters
Preços
A partir de
US$ 16,00/month
Opções de preços
---
Recursos do xMatters
Mercados
Estados Unidos, Canadá, Reino Unido, Austrália, China
e outros 5
, Índia, Japão, Alemanha, Brasil, México
Idiomas
Alemão, Chinês (simplificado), Chinês (tradicional), Coreano, Espanhol
e outros 6
, Francês, Inglês, Italiano, Japonês, Português, Russo
Mídias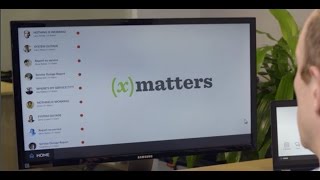 xMatters - Avaliações
xMatters - Avaliações
Relação qualidade/preço
4,3
96%
dos usuários recomendam este app
We use xMatters primarily as an extension to notifications coming from our ticketing system. We also use its form-based notifications to send out invitations to join a conference bridge for troubleshooting situations.
The integration from the ticketing system to xMatters On Demand (their cloud solution) was made difficult by the lack of a true outbound API from our old ticketing system. Regardless, xMatters has technical experts who were able to make it work. It took some trial and error, but the interface is based on Javascript so they were able to make quick code changes as needed.
Our technicians are able to login to xMatters and configure their own devices, and determine how they want to be notified, and even set timeframes for devices. The team leaders are able to define complex shifts and coverage times for our on-call groups so that the right on-call tech gets notified during the proper time of day. This includes the ability to configure schedules for users in different time zones.
There is a learning curve for the group "supervisors" to figure out how to set up the on-call shifts, but once they grasp the ideas of shifts and learn to use the calendar feature, it all makes sense.
We are also able to leverage the use of groups-within-groups, where one group of technicians acts as the triage team for multiple groups. This allows one team to handle simple incidents and requests, allowing the Level 3 technicians to focus on project and development work without being interrupted by simple service requests and routine incidents during the day, while still allowing them to be available when needed for after-hours on-call support.
We are also using xMatters form-based announcements, whenever it's necessary to send out a notification to a larger distribution of technicians, typically providing information about joining a conference bridge. We can either use xMatters' conference bridge or our own 3rd party conference bridges.
The forms feature allows us to build fill-in-the-blanks forms without having to write code. Also, forms can be saved with certain fields and drop-down selections already determined, creating "scenarios" that we can use over and over. We're still in the early learning stages of the forms capabilities; xMatters also offers integration capabilities that we haven't leveraged yet. For example, we should eventually be able to trigger messages that make calls to 3rd party systems using their Integration Builder features.
---
xMatters is simple to use, efficient and effective! We began using xMatters for basic paging and messaging for specific departments and teams but have now evolved into automation and integration with a few of our essential tools like NewRelic, Nagios, and ServiceNow. We love the fact that how well xMatters has worked for us to the point we are looking into their BCM solution as well. We are more efficient, more informed, and have a much faster response time to incidents involving critical business elements. The staff is awesome! They are always on top of any questions or concerns we may have.
---
The xMatters staff continuously offers us a high level of Customer Service. When I have contacted Rennie Chen or the Support Team (Kim Jue, Jason, Wong) I have always received excellent customer service. They diligently work with me to resolve any issues and answer any questions I might have. They also explain to me in detail the resolution for my issues. When I contact this team of professionals, I know any issues I'm experiencing will be resolved in a timely and efficient manner. I have enjoyed working with this team over the years.
---
I feel the product does a great job and has been very reliable. The organization has been great as far as informing their customers on new features and functionality. Where I do feel they could use some work is on their licensing model. I feel it is complicated to figure out their pricing model and they should address this as well as the product is very pricing if you want to extend it for "limited use" within your organization.
---
Compare as alternativas por classificação geral
Compare com alternativas
Compare as alternativas por recomendação dos usuários
Compare com alternativas
Preço do xMatters
Preço do xMatters
A partir de
US$ 16,00/month
Compare as alternativas por relação qualidade/preço
Compare com alternativas
Recursos do xMatters
Recursos do xMatters
Acompanhamento de atividades
Ferramentas de colaboração
Gerenciamento de usuários
Gestão do fluxo de trabalho
Importação/exportação de dados
Interface para arrastar e soltar
Monitoramento em tempo real
Compare as alternativas por avaliações dos recursos
Compare com alternativas
Categorias
Perguntas frequentes sobre o xMatters
Perguntas frequentes sobre o xMatters
Abaixo estão algumas perguntas frequentes sobre o xMatters.
P: Que tipo de planos o xMatters oferece?
O xMatters oferece os seguintes planos de pagamento:
A partir de: US$ 16,00/month
Modelo de preços: Gratuito, Assinatura
Teste Grátis: Disponível
P: Quais são os principais recursos do xMatters?
Não temos informações sobre os recursos do xMatters.
P: Quem costuma usar o xMatters?
Os clientes habituais do xMatters são:
Pequenas empresas, Grandes empresas, Empresas de médio porte
P: Em que idioma o xMatters está?
O xMatters está nos seguintes idiomas:
Alemão, Chinês (simplificado), Chinês (tradicional), Coreano, Espanhol, Francês, Inglês, Italiano, Japonês, Português, Russo
P: Que tipo de planos o xMatters oferece?
O xMatters tem os seguintes planos de preços:
Gratuito, Assinatura
P: O xMatters é compatível com disponíveis móveis?
O xMatters é compatível com os seguintes dispositivos:
Android, iPhone, iPad
P: O xMatters se integra com quais outros aplicativos?
O xMatters se integra com os seguintes aplicativos:
Cyfe, Fusion Framework System, Google Cloud Platform, PagerDuty, ScriptRunner for Jira, ServiceNow, Statuspage, Twitter, Workato, Zendesk
P: Que nível de suporte o xMatters oferece?
O xMatters oferece as seguintes opções de suporte:
Base de conhecimento, Suporte online, Tutoriais em vídeo, Fórum, Suporte por telefone, FAQs