Kinetic
Cloud ERP made with manufacturers, for manufacturers.
Sobre o Kinetic
Kinetic offers flexible, industry-specific enterprise resource planning solutions that are designed around the specific needs of manufacturing customers. The solutions leverage new technologies such as the Internet of Things (IoT), social collaboration, big data and analytics, 3D design automation, and mobility for a combination of rich global functionality built on agile technology.

Kinetic capabilities include a CRM for managing customer and partner data, invoices, quotes, orders, multi-level pricing contracts, and more. Tools for performance management provide visibility into the business, allowing users to plan, execute, and analyze at both strategic and tactical levels using business intelligence (BI) data. Users can securely capture, store, manage, and access content and documents at any time, via any device, using Epicor's content management system (DocStar), empowering interdepartmental collaboration.

Organizations are able to manage and streamline financial operations and gain insights into performance, expense, and risk through tools and controls to support complex legislative requirements. Features for planning and scheduling provide day-to-day control and long-range planning, helping to manage supply and demand in real-time with resource optimization, availability, change management, and more. Epicor's tools for manufacturing and production provide a full range of supply chain management, execution, and distribution capabilities.

Kinetic helps organizations plan and execute simple or complex, multi-level projects with strict costing and billing through features for project planning, time and expense management, billing and revenue, and resource management. Users are able to maximize service effectiveness by coordinating service center processes and managing each aspect of the supply chain from forecasting to fulfillment. Kinetic also includes human capital management from onboarding, to talent management.
Versão gratuita
Teste Grátis
Assinatura
5 principais alternativas ao Kinetic
Principais benefícios do Kinetic
Epicor ERP allows the integration of new technologies and processes in order to help make accurate, data-driven decisions.
Get a clear line of sight on everything from product and design through manufacturing and fulfillment to ensure that products will be profitable.
Cloud-ready Epicor ERP enables users to access business intelligence (BI) dashboards from any device.
Mitigate risk with greater visibility and closer collaboration across the entire supply chain.
Drive efficiency and productivity with tools that help better plan resources, balance and distribute work, collaborate with suppliers, and respond to shifting demand.
Versão gratuita
Teste Grátis
Assinatura
5 principais alternativas ao Kinetic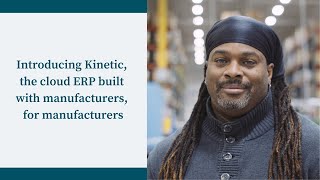 Total de recursos do Kinetic: 62
Administração da distribuição
Análise financeira
Atendimento do pedido
CRM
Cobrança e faturamento
Compras e recebimento
Conciliação bancária
Contabilidade
Dados em tempo real
ERP
Estimativas
Ferramentas de colaboração
Gerenciamento de documentos
Gerenciamento de faturas
Gerenciamento de multicanal
Gerenciamento de pedidos de compra
Gestão da cadeia de fornecedores
Gestão da folha de pagamento
Gestão da manutenção
Gestão da produção
Gestão da qualidade
Gestão da segurança
Gestão de RH
Gestão de armazéns
Gestão de ativos empresariais
Gestão de comércio eletrônico
Gestão de conformidade
Gestão de dados do produto
Gestão de edição
Gestão de estoques
Gestão de estoques
Gestão de estoques do varejo
Gestão de fornecedores
Gestão de importação/exportação
Gestão de pedidos
Gestão de projetos
Gestão de remessas
Gestão do ciclo de vida
Gestão do fluxo de trabalho
Gestão financeira
Indicadores de desempenho
Leitura de código de barras/tíquetes
Listas de materiais
MES (Sistema de execução de manufaturas)
Operações de negócios integradas
Orçamentos/estimativas
Painel de atividades
Pedidos de vendas
Planejamento de fabricação
Planejamento de requisitos de material
Planejamento de vendas e operações
Planificação da produção
Previsão
Previsão da demanda
Previsão de vendas
Processamento de pedidos
Rastreabilidade
Rastreamento de estoque
Razão geral
Relatórios e análise de dados
Relatórios e estatística
Troca de dados eletrônicos
NetSuite
#1 alternativa ao Kinetic
O NetSuite é uma solução de ERP na nuvem usada por mais de 24 mil clientes de alto crescimento em todo o mundo para...
Acumatica Cloud ERP
#2 alternativa ao Kinetic
Acumatica Cloud ERP provides the best business management solution for small and midmarket organizations to transform...
Odoo
#3 alternativa ao Kinetic
O Odoo é um pacote de aplicativos de negócios de código aberto personalizáveis e integrados. A maioria das necessidades...
SAP Business ByDesign
#4 alternativa ao Kinetic
SAP Business ByDesign is an integrated business management solution delivered on a subscription basis through the...
---
Já tem o Kinetic?
Ajude os compradores de software! As avaliações de programas ajudam outras pessoas a tomarem melhores decisões.
Escreva uma avaliação!
Exibindo 5 avaliações de 88
Perguntas frequentes sobre o Kinetic
Abaixo estão algumas perguntas frequentes sobre o Kinetic.
P: Que tipo de planos o Kinetic oferece?
O Kinetic oferece os seguintes planos de pagamento:
A partir de:
Teste Grátis: Não disponível
Contact Epicor for detailed pricing information.
P: Quem costuma usar o Kinetic?
Os clientes habituais do Kinetic são:
2-10, 11-50, 51-200, 201-500, 501-1.000, 1.001+
P: Em que idioma o Kinetic está?
O Kinetic está nos seguintes idiomas:
inglês
P: O Kinetic é compatível com disponíveis móveis?
O Kinetic é compatível com os seguintes dispositivos:
Android (celular), iPhone (celular), iPad (tablet)
P: O Kinetic se integra com quais outros aplicativos?
O Kinetic se integra com os seguintes aplicativos:
Epicor Advanced MES, Epicor ERP Financial Management
P: Que nível de suporte o Kinetic oferece?
O Kinetic oferece as seguintes opções de suporte:
Email/Help Desk, FAQs/Fórum, Suporte por telefone, Assistência 24/7, Bate-papo
Categorias relacionadas
Veja todas as categorias de software encontradas para Kinetic.