Advanced HR
Cloud-based, comprehensive HR management software
Sobre o Advanced HR
Advanced HR is a human resource management software that helps medium to large sized businesses streamline processes related to appraisals, onboarding, compensation, skills tracking, and more on a centralised platform. It allows staff members to create personalised profiles, access timesheets, and apply for multiple leave types, including sick, annual leaves, vacation, and more.
Advanced HR enables HR teams to monitor department specific turnovers and predict employee churn rates, improving resource planning operations. The training management module lets team members register for courses, view room availability, and track overall skill development. It also lets recruiters store role-based applicant resumes, create offer letters and contracts, and track candidate application status, among other processes.
Advanced HR enables leaders to gain insights into workforce diversity by generating reports based on multiple criteria, such as age, gender, and ethnicity. Supervisors can give employee feedback, view employee costs, monitor recruitment processes, and track employee absentee rate.
Preços a partir de:
Sem informação do fornecedor
Versão gratuita

Teste Grátis

Assinatura
5 principais alternativas ao Advanced HR
Principais benefícios do Advanced HR
Advanced HR, takes care of the entire employee lifecycle from recruitment to retirement. Through a combination of core HR functionality, instant online access and an all-inclusive reporting suite, Advanced HR delivers unrivalled maintenance of your organisation's full employee lifecycle. Advanced HR is designed to be flexible to the needs of your people, empowering employees to self-serve and access the system anytime, anywhere. Advanced HR reduces the administrative burden on HR teams, so you can focus on investing valuable time into activity that is going to enhance the employee experience and increase retention.
Employee Management- Advanced HR allows you to stay connected with your people wherever they may be working from. Achieve one single source of accurate employee information and gain the oversight you need in order to get to the heart of matters and ensure
your people enjoy a seamless employee experience.
Training Management- Keep on top of the development of your employees. Our comprehensive platform allows you complete visibility of your people's journeys through your organisation, giving you the confidence to know that any qualifications and accreditations will remain up to date and that your people have the skills they need to be productive and do the best job possible.
Applicant Management- Ensure a seamless and accurate applicant journey. Hold and track relevant applicant information on a single, easy to use platform and cut through the admin backlog and time loss normally associated with the recruitment process. Get the right people in the right positions first time, helping you attract and retain talent and getting the right skills where you need them.
Dashboards and Reporting- Accurate and easy to navigate reporting tools mean that you are never more than a click away from getting the oversight and vital information you need.
AVA- We know how important it is that your HR teams are more than just task robots, ticking boxes of administrative duties. Our Advanced Virtual Assistant (AVA) is designed to shoulder the burden of repetitive tasks and answer the thousands of queries employees have, freeing up your HR teams to focus on what matters and allowing them to bring their creativity to the table.
MyWorkplace- Created as a comprehensive platform for every employee, MyWorkplace gives you the freedom to action core tasks and activities effortlessly and without the need to split your focus between several platforms. Experience the power of doing less and being more productive by tearing down the barriers and wasted time spent between disparate systems that stop you and your managers from getting the job done.
SAAS- Advanced HR is provided via a Cloud delivery model. We shoulder the burden of hosting any applications on our own dedicated servers, meaning that you never have to worry about time consuming integration or maintenance responsibilities- we've got it covered.
Consumidores típicos
Autônomos

Pequenas empresas

(2-50)

Médias empresas

(51-500)

Grandes empresas

(500 ou mais)
Implantação
Baseado na nuvem

Instalação local
Preços a partir de:
Sem informação do fornecedor
Versão gratuita

Teste Grátis

Assinatura
5 principais alternativas ao Advanced HR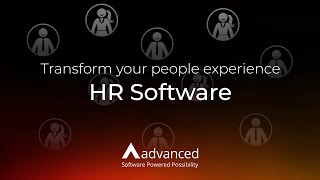 Total de recursos do Advanced HR: 50
API
Acesso para Celular
Apreciação do desempenho
Aprendizagem e desenvolvimento
Armazenamento de documentos
Banco de dados de funcionários
Comentários de 360 graus
Controle de comparecimento
Controle de comparencimento
Controle de licenças
Controle de licenças médicas
Controle do processo de aprovação
Controles/permissões de acesso
Fluxo de trabalho configurável
Gerenciamento de documentos
Gestão da folha de pagamento
Gestão de RH
Gestão de benefícios
Gestão de calendários
Gestão de candidaturas de emprego
Gestão de capacitação
Gestão de comparecimento
Gestão de conformidade
Gestão de funcionários
Gestão de indenizações
Gestão de recrutamento e seleção
Gestão do desempenho
Gestão do fluxo de trabalho
Gestão do quadro de horários
Gestão do tempo livre
Imagem de marca personalizável
Importação/exportação de dados
Incorporação
Incorporação de funcionários
Integrações de terceiros
Lembretes
Modelos personalizáveis
Painel de atividades
Perfil dos funcionários
Planejamento de sucessões
Portal de autoatendimento
Portal do funcionário
Portal para funcionários
Rastreamento de vagas e licenças
Relatórios e análise de dados
Relatórios e estatística
Relatórios em tempo real
Relatórios personalizáveis
Seguimento dos candidatos
Solicitações de tempo livre
Paycor
#1 alternativa ao Advanced HR
Paycor is an all-in-one, cloud-based HR solution for managing recruiting, onboarding, benefits administration, payroll,...
Factorial
#2 alternativa ao Advanced HR
O Factorial é um software de RH eficaz para pequenas e médias empresas para automatizar tarefas administrativas como...
Striven
#3 alternativa ao Advanced HR
Comprehensive cloud-based management solution for businesses. Includes Accounting, CRM, Projects, HR, etc on any device.
Darwinbox
#4 alternativa ao Advanced HR
Darwinbox is a unified HRMS platform built for large enterprises. Loved by HR teams and employees alike, it is used by...
---
Já tem o Advanced HR?
Ajude os compradores de software! As avaliações de programas ajudam outras pessoas a tomarem melhores decisões.
Escreva uma avaliação!
Exibindo 1 avaliação
Setor: Filantropia
Fonte da avaliação
Classificação geral
Praticidade

Suporte ao cliente

Probabilidade de recomendação

7.0

/10
Easy set up but takes some time to learn
Avaliado em 30/06/2015
Vantagens
Strong support and you can use a lot of areas of the software in HR.
Desvantagens
The product took a while to learn and get comfortable with, company was always there to support though.
Perguntas frequentes sobre o Advanced HR
Abaixo estão algumas perguntas frequentes sobre o Advanced HR.
P: Que tipo de planos o Advanced HR oferece?
O Advanced HR oferece os seguintes planos de pagamento:
Avaliação gratuita: Não disponível
Please contact Advanced directly for pricing details.
P: Quem costuma usar o Advanced HR?
Os clientes habituais do Advanced HR são:
201-500, 501-1 000, 1 001-5 000
P: Em que idioma o Advanced HR está?
O Advanced HR está nos seguintes idiomas:
inglês
P: O Advanced HR é compatível com disponíveis móveis?
O Advanced HR é compatível com os seguintes dispositivos:
P: O Advanced HR se integra com quais outros aplicativos?
Não temos informações sobre quais integrações o Advanced HR oferece.
P: Que nível de suporte o Advanced HR oferece?
O Advanced HR oferece as seguintes opções de suporte:
Email/Help Desk, FAQs/Fórum, Base de conhecimento, Suporte por telefone, Bate-papo
Categorias relacionadas
Veja todas as categorias de software encontradas para Advanced HR.