Resumo do Paycom
O que é o Paycom?
Fundada em 1998, a Paycom, com sede em Oklahoma City, foi pioneira no setor de folha de pagamento, sendo uma das primeiras a oferecer às empresas uma alternativa ao software de folha de pagamento instalado. Usando tecnologia software como serviço (SaaS na sigla em inglês), a Paycom fornece software de ponta em gerenciamento de capital humano pela Internet, fornecendo aos empregadores acesso em tempo real às informações. O que começou como um aplicativo único para folha de pagamento se expandiu para um conjunto de serviços rico em recursos, incluindo gestão de tempo e mão de obra, aquisição de talentos, gerenciamento de talentos, gerenciamento de RH e folha de pagamento.
Com o crescimento do aplicativo da Paycom, cresceu na mesma medida o compromisso com o modelo de serviço individual que garante aos clientes um ponto de contato para todas as consultas. O suporte pessoal prestado por especialistas dedicados da Paycom e as eficiências aprimoradas fornecidas pela folha de pagamento e tecnologia de RH da Paycom criam uma proposta de valor única que tornou a Paycom líder no espaço online de gerenciamento de capital humano.
Resumo do Paycom
Mídias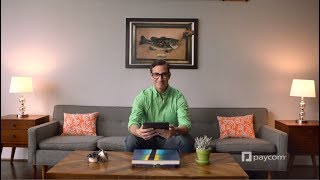 Paycom - Avaliações
Paycom - Avaliações
Relação qualidade/preço
4,3
84%
dos usuários recomendam este app
Overall Paycom seems to solve my problems before they arise; the integration between what would have been separate platforms allows for simplified processes and efficiencies that allows me to focus on the big picture rather than focus on the small tedious things.
---
The software is progressing nicely and is very easy to use. Customer care at the account level is very good. Direct customer service sometimes lacks skills, but part of that is due to the fact that there are so many new features and add ins being released right now that their customer service team seems a little behind the curve of indepth knowledge. Overall the stongest product on the market for small to medium sized companies.
---
Paycom does not offer a demo account, like many of their competitors, so you have to rely on a quick 1 hour demo given by a sales person, which doesn't adequately capture the true functionality of this system. While the employee interface is decent, the HR and Admin management side is a nightmare. It's incredibly complex and it's just not possible to get it up and running easily. It will take a significant amount of energy on your side to get it functional. Additionally, many promises that were made in the sales pitch were not honored. The transition team and payroll team I had were not terribly experienced, lacked knowledge of payroll and their own system, and I had to walk them through several items that I didn't expect to have to do. Our employees weren't set up correctly. Products I paid for were not available on our account. I very quickly realized that this system was not going to work for our team and moved to cancel our account and the customer service was pretty awful, going all the way up to upper management. In the week I've tried to shut down this account, I got our company up and running with a different system that was everything I was looking for. All in all, I would not recommend this system unless you have A LOT of time to implement and train and you feel like learning a very specific system.
---
My overall experience using Paycom is great! I've been using it for over seven years now and have had minimal issues.
---
Engaging with our employees has been so much more efficient with Paycom! They love the interface and once they got the hang of using it, we began to learn things from them as we made our transition.
---
Compare as alternativas por classificação geral
Compare com alternativas
Compare as alternativas por recomendação dos usuários
Compare com alternativas
Preço do Paycom
Compare as alternativas por relação qualidade/preço
Compare com alternativas
Recursos do Paycom
Recursos do Paycom
Acompanhamento de atividades
Banco de dados de funcionários
Criação de relatórios personalizável
Gestão de recrutamento e seleção
Imagem de marca personalizável
Importação/exportação de dados
Incorporação de funcionários
Portal de autoatendimento
Seguimento dos candidatos
Compare as alternativas por avaliações dos recursos
Compare com alternativas
Categorias
Perguntas frequentes sobre o Paycom
Perguntas frequentes sobre o Paycom
Abaixo estão algumas perguntas frequentes sobre o Paycom.
P: Que tipo de planos o Paycom oferece?
O Paycom oferece os seguintes planos de pagamento:
Modelo de preços: Assinatura
Teste Grátis: Não disponível
P: Quais são os principais recursos do Paycom?
Não temos informações sobre os recursos do Paycom.
P: Quem costuma usar o Paycom?
Os clientes habituais do Paycom são:
Pequenas empresas, Grandes empresas, Empresas de médio porte
P: Em que idioma o Paycom está?
O Paycom está nos seguintes idiomas:
Inglês
P: Que tipo de planos o Paycom oferece?
O Paycom tem os seguintes planos de preços:
Assinatura
P: O Paycom é compatível com disponíveis móveis?
O Paycom é compatível com os seguintes dispositivos:
Android, iPhone, iPad
P: O Paycom se integra com quais outros aplicativos?
O Paycom se integra com os seguintes aplicativos:
Aladtec, BizRun, Harri, Hotel Effectiveness, Hubworks Hostel Management, Pereless Systems, QSROnline, Tanda, TimeClock Plus, Wisetail LMS
P: Que nível de suporte o Paycom oferece?
O Paycom oferece as seguintes opções de suporte:
FAQs, Base de conhecimento, Suporte online, Suporte por telefone, Tutoriais em vídeo