Resumo do Clio
O que é o Clio?
O Clio é o principal software baseado em nuvem para o setor jurídico. O Clio facilita o dia a dia de profissionais da área jurídica em todo o mundo com monitoramento de tempo intuitivo, faturamento, gestão de assuntos, aplicativos móveis e muito mais, para agilizar todas as tarefas, desde a captação do cliente até seu faturamento. Com o Clio Manage, o software de gestão de práticas jurídicas mais popular do mundo e o Clio Grow, uma plataforma de CRM jurídico projetada para ajudar a gerenciar melhor o relacionamento com os clientes, o Clio Suite oferece tudo de que você precisa para administrar e gerenciar sua empresa.
Clio Manage: concentra-se no faturamento do trabalho. Deixe o Clio automatizar tarefas tediosas, otimizar fluxos de trabalho e organizar casos, para que você possa oferecer melhores experiências ao cliente.
Tome decisões de negócios bem-informadas com rapidez. Opere em conformidade com os padrões regulatórios. Armazene informações críticas da empresa em um local central, seguro e atualizado, que você pode acessar de qualquer lugar, a qualquer momento.
Clio Grow: poderosa captação de clientes para escritórios de advocacia – simplificada. A plataforma completa de captação de clientes e gestão do relacionamento com o cliente (CRM) que agiliza os processos, a organização e o crescimento dos escritórios de advocacia.
Saiba mais acessando clio.com.
Resumo do Clio
Preços
A partir de
US$ 39,00/mês
Opções de preços
---
Recursos do Clio
Mercados
Estados Unidos, Canadá, Reino Unido
Mídias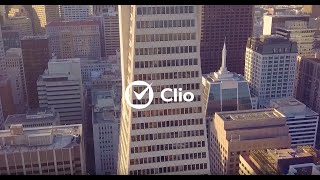 Clio - Avaliações
Clio - Avaliações
Relação qualidade/preço
4,6
96%
dos usuários recomendam este app
After 3 years, I am still working at discarding habits and practices built up over 25 years as a practicing attorney to better incorporate Clio's feature into my daily work flow. One of Clio's driving philosophy's is to make lawyers more productive with their time, and make lawyers services more accessible to persons that need legal advice. Clio's focus on providing multiple access points, including mobile apps designed from the ground up with these two goals in mind, will pay off for both Clio and my practice in the long run.
---
We have been with Clio since about the middle of October 2019 (today is April 3, 2020) and we are mostly pleased. I think that most case management software works on the same theory: a contact (person or enterprise) can have several different matters (cases). Like most users, we just want it to work and it does (with the exception of the accounting problem described above).
Clio has so many helpful features and integrations that it could take a year or two just to get a small to medium-size office up to speed with using all the features.
However, UNTIL CLIO FIXES THE ACCOUNTING SECURITY PROBLEM, DO NOT SWITCH FROM YOUR CURRENT PROGRAM.
---
Clio set us up for LawPay. Less than 1 week into this month we suddenly can't take anyone's payments. We call Clio and they tell us there is no problem, must be the customer's problem. On two separate occasions they told us there was no limit to the payments we could intake for bills. Finally contact Lawpay who says there is a limit, we exceeded it, and now we can't take another 70 some odd payments this month and the clients all think we are idiots. Why would they sign us up for a program that limits retainers and payments to $10,000 when Clio knows we have 4 full time employees based on the licensees we have?
---
If you're not used to a system, this can be made into a good system for you. There are a lot of functions missing--like being able to track time associated with flat fee activities (so you can't track productivity or if you do, you can't print out your billable hours without some discussion to the ethics board). You can track e-mails and phone calls, but not faxes, letters, or text messages. You can set tasks for others that you can update, but the update doesn't get sent to the other person. You can set pop-ups on your calendar for yourself, but not for other people. You can track the budget of a case, but not the running total of transactions or expenses. You can integrate with Quickbooks, but you have to import and export the information--the information does not flow freely between the two. The calendar has all of the same pitfalls as Google Calendar because it is Google calendar but with some functions missing. You can upload and download documents, and you must do that in order to save any changes with Clio (unless you pay for HIPAA-compliant Google Drive Professional). Your receptionist has to separately capture phone messages from your client to you because only you can have conversations. Wandering between the conversations page and the logs page means that you will always end up back in the Matters tab. If you're trying to capture a phone call with a person not in the system you have to exit the phone call and lose all of the information to enter that person before you can save the conversation to a file. It's not customizeable. There are some pros over Amicus but many features I miss (such as being able to track time directly with the phone call, including the time the call was initiated) but it has good parts about it. If you're into nitty-gritty capturing of information and you have the time to invest it can be a good platform but trying to teach established attorneys how to rework their legal practice around it is difficult.
---
My overall experience has been great! They are always making sure to take the next step in integrations and constantly keep their software up to date and secure.
---
Compare as alternativas por classificação geral
Compare com alternativas
Compare as alternativas por recomendação dos usuários
Compare com alternativas
Preço do Clio
Preço do Clio
A partir de
US$ 39,00/mês
Compare as alternativas por relação qualidade/preço
Compare com alternativas
Recursos do Clio
Recursos do Clio
Criação de relatórios personalizável
Gestão do fluxo de trabalho
Importação/exportação de dados
Integração da contabilidade
Compare as alternativas por avaliações dos recursos
Compare com alternativas
Categorias
Perguntas frequentes sobre o Clio
Perguntas frequentes sobre o Clio
Abaixo estão algumas perguntas frequentes sobre o Clio.
P: Que tipo de planos o Clio oferece?
O Clio oferece os seguintes planos de pagamento:
A partir de: US$ 39,00/mês
Modelo de preços: Assinatura
Teste Grátis: Disponível
P: Quais são os principais recursos do Clio?
Não temos informações sobre os recursos do Clio.
P: Quem costuma usar o Clio?
Os clientes habituais do Clio são:
Pequenas empresas, Grandes empresas, Sem fins lucrativos, Autônomos, Empresas de médio porte
P: Em que idioma o Clio está?
O Clio está nos seguintes idiomas:
Inglês
P: Que tipo de planos o Clio oferece?
O Clio tem os seguintes planos de preços:
Assinatura
P: O Clio é compatível com disponíveis móveis?
O Clio é compatível com os seguintes dispositivos:
Android, iPhone, iPad
P: O Clio se integra com quais outros aplicativos?
O Clio se integra com os seguintes aplicativos:
Chrometa, Cyfe, FactBox, InvoiceSherpa, Law Ruler, PieSync, Teamleader, Wishpond, Xero, Zapier
P: Que nível de suporte o Clio oferece?
O Clio oferece as seguintes opções de suporte:
Base de conhecimento, Suporte online, Suporte por telefone, Tutoriais em vídeo